Hi All!
Well Pujas ended yesterday and I was so exhausted that I just couldn't manage to put up this post the day before.
Last day of Puja means bidding farewell to the Goddess. And when a married daughter prepares to leave her natal home after too brief a visit, Her family showers her with blessings and good wishes by gifting her various auspicious gifts celebrating her married status.
The Goddess's Shringar is done by rubbing two beetle leaves on her cheeks (an effective beauty treatment). Then sindur or red vermillion (the most powerful symbol of a married woman among Hindus) is applied to her forehead and the parting of her hair. She is then blessed with
durva
grass and unhusked paddy (both, symbols of fertility). Finally she is offered sweets, signifying the sweetness of marital life.
This ritual is performed only by married women. After this is done, the women offer sindurto each other as a celebration of marital life and wishing each other a long and happy marriage (ward off widowhood on the other hand,since it is considered the highest misfortune that can befall a woman,among Hindus).
I was unable to click any of my pics here so I'm using photos which I found on the net. The references are given.
http://www.durgapujo.com/show_image.php?x=531
https://www.flickr.com/photos/41758168@N06/3966923362/
Boron Dala
By Sammyabrata Mallik (Google+)
http://www.genesisartgallery.in/work_details.asp?txtid_workDetails=937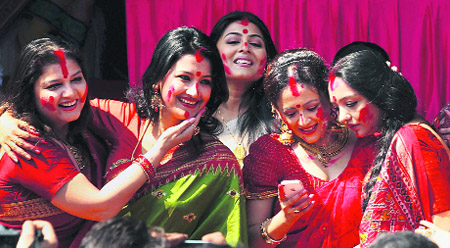 http://www.tribuneindia.com/2012/20121029/nation.htm
I chose to keep my look simple for the day. Not too much makeup since most of it would get covered in sindur. I stuck to the traditional colours of white and red but the outfit was more modern. For the makeup, I applied a wash of the plum shade with a hint of bronze shimmer (
Cameleon Eyeshadow Palette
). Black eyeliner on the top lashline with a dash of white completed the eye. For the lips I lined them with
NYX Slim Pencil in Chocolat
and glossed over with
Sally Hansen Lip Gloss in Sunset
Products Used for Makeup:
Bodyography Foundation Primer in Clear
Lakme CC Cream in Bronze
Faces Canada Concealer Stick in Medium
Maybelline New York Clear Glow Pressed Powder in Nude Beige
Beauty UK Blush in Rustic Peach
Cameleon Eyeshadow Palette
Elle 18 Liquid Eyeliner in Blackout
Lakme Eyeconic Kajal in White
NYX Slim Pencil in Chocolat
Sally Hansen Diamond Lip Gloss in Sunset
This brings to an end my Durga Puja 2014 Series. What did you think of the various looks? Let me know through your comments in the box below.
Take Care!