Sonam Kapoor recently unveiled the make up collection for the Festival de Cannes 2014 - L'Or Lumiere - by cosmetics major L'Oreal Paris. The looks have been created by L'Oréal Paris Beauty Expert, Namrata Soni.
The L'Or Lumiere collection is inspired by the purest of the elements, 'Gold' and the coming of the spring season.
Products in the L'Oreal Paris L'Or Lumiere collection are laced with vivid hues and beautiful undertones of radiant gold. This collection includes the Vivacious Moist Matte lipsticks, Super Liner Gel Matic eye liners, Infallible Mono eye shadows and Color Riche Nail Colors. The products have been hand-picked to match the grandeur that this Festival showcases.
Speaking about the range and the exceptional looks, Sonam Kapoor said, 'Every year I look forward to Cannes because of the exceptional makeup and looks that L'Oreal Paris launches.'
'I am really excited about the L'Or Lumiere collection as it embodies two of my favourite makeup trends – neo gold and brights! Namrata has done a fabulous job on the three looks and I'm quite excited to showcase these trends on a global platform.'
Namrata Soni, L'Oréal Paris Beauty Expert said, "L'Oreal Paris has always crafted products that accentuate the grace and elegance of the modern Indian women. L'Or Lumière is a revelation in itself that takes the concept of style and beauty to a whole new level. I thoroughly enjoyed creating the looks using the L'Or Lumière collection. The products are a fine representation of glamour, elegance and will certainly heighten the allure of any look."
The L'Oréal Paris L'Or Lumière Collection is available across all L'Oréal Paris Boutiques.
-------Press Release---------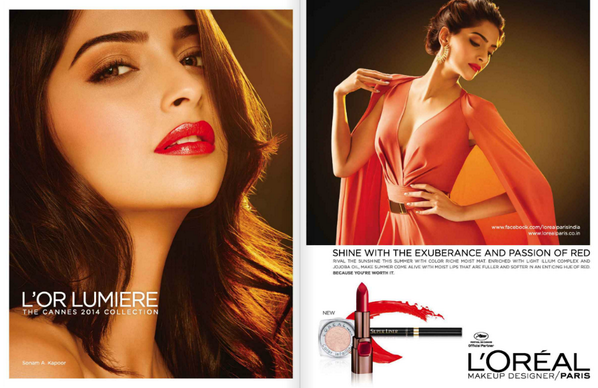 Neo-Gold
At the Launch
Matte has never been so rich! L'Oreal Paris launches a revolutionary new range of lipsticks – Color Riche Moist Matte, with pure pigments that deliver intense luscious color for a full 6 hours in 12 irresistible shades of pure indulgence. It is enriched with new Light Illium complex for a rich matte effect, velvet fusion capsules and Ultra Gliding Shine oils to provide a smooth and silky application and Jojoba oil to give absolute hydration for up to 4 hours. The product is priced at Rs. 899
L'Oreal Paris introduces its first gel eye liner in a Twist Up pen format – L'Oreal Paris Super Line Gel Matic. The product is created with an exclusive formulation of ingredients and is designed to last for up to 12 hours giving an intense matte colour pay off. The product has a pen-precision for a super easy application, the intensity of a gel and is totally smudge proof. Comes in five rich, luxurious shades and is priced at Rs. 395
Of the three I like L'Or Sunset and Passion of Red. I do not care much for the Neo-Gold.
Which look do you like the most? Let me know!!
Looks are being created for
Aishwarya Rai Bacchan and Freida Pinto
. Will let you know as soon as I get my hands on their pics.
I am most excited about the Twist-up Gel eye liner!!
What about you?