Hello Everyone!
Winter brings a lot of colourful vegetables to our table. So as winter is preparing to bid us goodbye, lets quickly rustle up a really easy to make. It is not only packed with nutrients, but it it really tasty too!!
So let's dive straight in...
Ingredients
:
1. Apple chopped into sticks
2. Boiled beetroot ,
3. Chopped tomatoes
4. Cottage cheese chopped into sticks
5. Broccoli,
baby corn,
french beans and
carrots chopped and par boiled.
6. Dry fruits as in almonds, walnut and cashew nuts
7. Juice of half a lemon,
8. Salt,
9. Pepper
10. Honey
11. lots of love . 💕.
Method:
1. Mix lemon , salt , pepper and honey in par boiled vegetables, toss in tomatoes,apple, beetroot and cottage cheese.
2. Add dry fruit nuts.
3. Ready to eat , tastes better cooled.
Bon Appetit!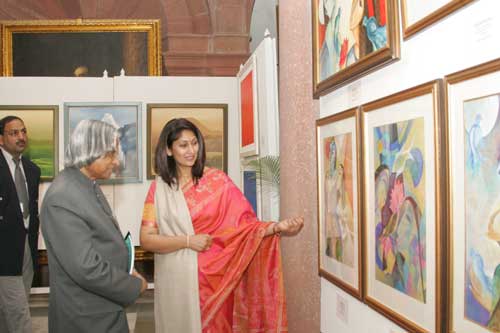 Shuchi Khanna is a well known name on the Indian art scene. She has exhibited her paintings in an number of
galleries including the Rashtrapati Bhawan. She has won numerous awards, yet remains a warm and friendly person, with great enthusiasm for life! She is a great cook too. You can view her paintings on her website: www.shuchikhanna.com