Ok, time for breaking the mysteries of another spice. Today I'll talk about fenugreek of methi.
To begin with, methi is not just a spice. It has been used in three forms, as a herb (dried or fresh leaves), as a spice (seeds), and as a vegetable (fresh leaves, sprouts, and microgreens). It is bitter to taste and has a strong fragrance.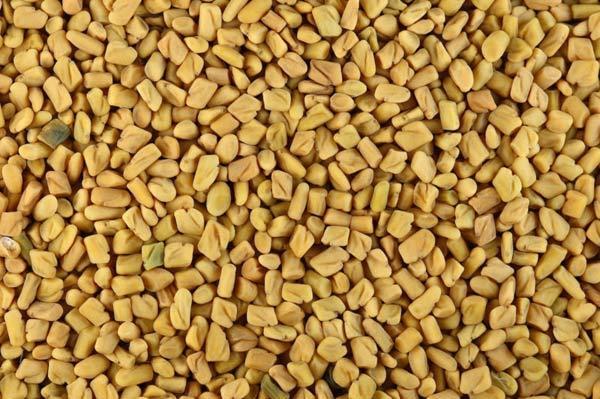 Let us list the health benefits of fenugreek:
Methi seeds are very useful for lactating mothers. It helps increase a mother's milk supply.
Eases women's health problems : Fenugreek contains compounds like diosgenin and isoflavones with oestrogen-like properties which help reduce symptoms like discomfort and menstrual cramps associated with PMS. These compounds also ease menopausal symptoms like hot flashes and mood fluctuations. Women are more prone to iron deficiency during adolescence (initiation of menstrual periods), during pregnancy and breastfeeding. Including green leafy veggies like fenugreek (methi) in your diet can supply a good amount of iron. But make sure to add tomatoes or potatoes to the preparations to enhance the iron absorption.
Helps ameliorate metabolism among diabetics. Galactomannan, a natural soluble fibre present in fenugreek slows down the rate of sugar absorption into blood. Fenugreek also contains amino acid responsible for inducing the production of insulin.
Reduction in cholesterol: According to studies fenugreek helps to reduce cholesterol levels, especially that of the low density lipoprotein (LDL).
Reduces cardiovascular risk: Fenugreek seed has cardiovascular benefits due to the presence of galactomannan. It lowers the risk of heart attack. It is also an excellent source of potassium which counters the action of sodium to help control heart rate and blood pressure.
Aids digestion: Fenugreek helps flush out harmful toxins. It relieves indigestion and helps treat constipation.
Prevents acid reflux or heartburn: One teaspoon of fenugreek seeds in your food can be an effective remedy for acid reflux or heartburn. Mucilage of fenugreek seeds coat the lining of the stomach and intestine and sooth irritated gastrointestinal tissues. Before consuming, you can soak the methi seeds in water to make their outer coat mucilaginous.
It is a remedy for fever and sore throat: Fenugreek when taken with a teaspoon of lemon and honey can work wonders to reduce fever by nourishing the body. The soothing effect of mucilage in fenugreek also helps to relieve cough and pain from sore throat.
Can Prevent colon cancer: The fibre content (saponins, mucilage, etc.) of fenugreek binds to toxins in the food and flush them out. This in turn helps to protect the mucus membrane of the colon from cancers.
Helps Lose weight by suppressing appetite: Include fenugreek in your weight loss diet by chewing soaked methi seeds in the morning on an empty stomach. The natural soluble fibre in the fenugreek can swell and fill the stomach thereby suppressing your appetite.
Cure for skin inflammation and scars: Apply methi seed paste for effective treatment of skin problems like burns, boils, eczema, etc. Fenugreek seeds also help in getting rid of scars.
As a beauty product: Fenugreek can be an excellent ingredient for your home-made beauty product. Fenugreek can be used in face packs to help prevent blackheads, pimples, wrinkles, etc. Washing your face with water boiled with fenugreek seeds or applying a paste of fresh fenugreek leaves for twenty minutes on your face can work wonders for your skin. It may be a solution to many hair problems
Using fenugreek as a part of your diet or as a paste to directly apply on your hair makes your hair shiny and black. Massaging your head everyday with fenugreek seeds boiled in coconut oil can be an excellent remedy for thinning of hair and hair fall. Fenugreek is also great in controlling dandruff




Methi/Fenugreek has also been used as a beauty aid for centuries:

1.Start your day with Fenugreek:Drink half a glass of methi soaked water (recipe given below) on an empty stomach. It not only helps in reducing hair loss but also brings a whole range of health benefits listed above. Make a paste of the seeds and apply to scalp.Cover with a showercap for 30 minutes and wash off with a herbal shampoo. Don't let the paste dry on your scalp because it is difficult to wash off when dry.
2.Apply as a Hairmask :Paste of the fresh leaves or fenugreek seeds with coconut milk applied over the scalp, helps prevent hair loss,promotes hair growth,reduces dandruff amd makes it silky smooth.
3.Nourishing Fenugreek hair oil: :Ayurveda recommends keeping the scalp moist and cool with oil massages of herbal hair oils made by infusing coconut oil or sesame oil by boiling fenugreek seeds in it.
4. Anti Dandruff Hair-Pack:A paste of methi leaves or seeds mixed with apple cider vinegar, when applied to the scalp is good for treating dandruff and dry itchy scalps.
5.Anti Acne Pack:Applying the paste of fenugreek leaves or seeds and turmeric on your face is very good for pimple and blackheads prone skin.
6. Anti Aging Face-Pack:Make a paste of fenugreek leaves or seeds with boiled milk and add honey to it. Applying this to your face delays the appearance of fine lines and wrinkles. It not just improves the complexion but also makes one look years younger
7.Moisturising Hair Pack for Shiny and silky Hair:
Fenugreek works wonders on dry hair,because if its high mucilage and protein content .It softens your tresses and adds shine to dull hair. Soak fenugreek seeds in water overnight. Once the seeds become soft, grind them to a paste. Mix the paste with half its quantity of curd. Apply the pack to your hair and leave on till it for half an hour.Wash it off with a mild herbal shampoo . The result will be soft and silky hair you will love to touch.
8.Add volume and bounce to your hair: Apply a paste of fenugreek seeds to condition your hair while adding volume to it. This mask is a little messy but is quite worth the effort.Leave it on for 30 minutes and rinse it as usual with a herbal shampoo.
Early Morning Elixir


Methi Seeds : 1 Spoon
Water : Half Glass(Approx 300 ml)
METHOD:
1.First boil the half glass of water. Cool it so that its still warm and not hot any longer. After that take a spoonful of methi seeds and soak these methi seeds in that boiled water overnight..
2. Early next morning filter the seeds from that water and drink the water with empty stomach.
3.This should be done daily .If you are unable to do this daily, you may do this 3-4 times a week.
Eat fenugreek in all its forms... the seeds, fresh leaves in sabzis puris and parathas, dried leaves to flavour your curries and raitas, sprout them with your regular moong and channa.